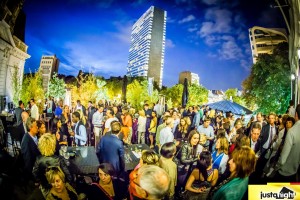 20 juillet 2019
22:30
10€
Cospaia
Rue Capitaine Crespel 1 - 1050 Ixelles
International Party - Special "La Fête des Belges"
COSPAIA Rooftop & Terrace Party "

Nous vous invitons à la soirée « COSPAIA & TERRACE PARTY - Special FETE DES BELGES» qui se déroulera ce SAMEDI 20 juillet 2019.

le Cospaia nous offre la possibilité d'organiser une soirée magique dans son cadre unique et mystérieux. Si le temps est avec nous, la superbe terrasse avec vue sur le Boulevard de Waterloo sera ouverte et ce pour le plaisir de tous !

Situé sur le Boulevard de la Toison d'Or, le quartier entier respire le luxe et une ambiance de convivialité !

Le Cospaia se situe en face de THE HOTEL.

L'entrée à la soirée se fera par la rue Capitaine Crespel 1 située à 1050 Ixelles.

22H30 : Party - Music By Jonathan Loys
Dress code : Summer Chic

! TENUE CORRECTE EXIGEE A L'ENTREE !

The Team


-----

"COSPAIA & TERRACE PARTY" - SPECIAL "FETE DES BELGES"

International Party By Just A Night & Blue European Events
22:30 Party with Disco, 80's, 90's, world music

COSPAIA wil easily fit in that exclusive list of addresses next to Café Costes in Paris, Bank in London, Vau in Berlin and Arts in Barcelona. the beautiful ceilings, the baroque inspired rooms and the fantastic terrace with view of the lively Boulevard de Waterloo.

If the weather is with us, the fantastic terrace will be open with a special lounge and great atmosphere ! If not the Party is inside!

Dress code : Summer Chic

-----

Na het succes van de vorige edities, gaan we naar het summum, de crème de la crème, the finest TERRAZA in Brussels: Le COSPAIA!!!


De ideale manier om de zomer en de vakantie in te zetten...
Don't miss it!!
www.facebook.com
Retour