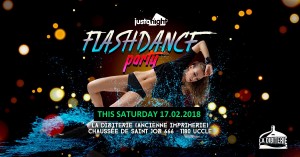 17 février 2018
22:30
10€
LA DIBITERIE (ANCIENNE IMPRIMERIE)
666 Chaussée de Saint Job à 1180 Brussel
Flashdance / International Party / La Dibiterie

L'équipe de la Just a Night vous propose chaque semaine des soirées itinérantes dans les établissements les plus trendy de la capitale.

Ce samedi 17 février 2018, nous sommes heureux de vous inviter et de vous faire découvrir la Dibiterie (Ancienne Imprimerie) située sur la place Saint-Job, le temps d'un soir et sur un thème musicale de la Belle époque avec la musique qu'on aime écouter, réécouter dans l'ambiance de ces années qu'on regarde derrière nous avec nostalgie, un thème musicale 80s 90s et 2000s qui sera mis à l'honneur.

Nous vous ferons passer une soirée inoubliable dans un nouveau cadre Nightlife qui nous a séduit !

UN VERRE DE BULLES VOUS SERA OFFERT DES VOTRE ARRIVEE!

DJ Ayala aux platines et surprises pendant la soirée.

Soyez somptueuses et somptueux pour ce deuxième rendez-vous.

LA DIBITERIE ( ANCIENNE IMPRIMERIE)

Life is a Party

=================

-En-


THIS SATURDAY 17.02.2018

Flashdance– International Party
By The JUST A NIGHT's TEAM

La DIBITERIE (ANCIENNE IMPRIMERIE)

Place Saint-Job (5 minutes from Bois de la Cambre)
For this exceptional event, DIFFERENT ATMOSPHERES will be offered to the participants:

COME DANCE – MINGLE WITH HUNDREDS – JOIN US – BRING FRIENDS – DRESS TO IMPRESS – ARRIVE EARLY – SPREAD THE WORD – INVITE FRIENDS-EVERYONE IS WELCOME

Welcome Bubble Glass - All Night Long
Music by Dj Ayala

DRESS CODE : BE YOURSELF

New Live Music Experience (spinning 80's, 90's, 2000's & world music)

Let the party continue !
The Just A Night Team


LA DIBITERIE (ANCIENNE IMPRIMERIE)
Something more then just a regular night out at a club.
www.facebook.com
Retour