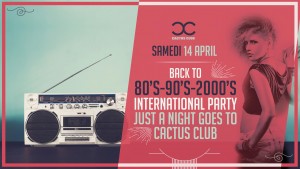 14 avril 2018
22:30
10€
Cactus
Boulevard du Souverain 147 - 1160 bruxelles
JUST A NIGHT GOES TO CACTUS / SATURDAY 14.04.2018
BACK to 80's 90's 2000's / International Party / Cactus Club

BACK to 80's vs 90's vs 2000's - International Party
*JUST A NIGHT* GOES TO CACTUS CLUB

-FR-
Chers Amis,
Samedi 14 avril 2018, nous vous invitons à la soirée BACK TO 80's vs 90's vs 2000's

Le Label "Just A Night" est le concept le plus itinérant de la capitale, un concept informel fondé par des amoureux de la nuit qui font bouger la nuit bruxelloise depuis plus de 10 ans... Avec un public cosmopolite on y croise des artistes belges et internationaux, des leaders d'opinion, des fous, les meilleurs DJ'S, des mannequins, des flambeurs, des pirates, des promoteurs de soirées, des hommes d'affaires, les expats de Bxl ou tout simplement les anonymes,...

Voyager dans la capitale et vous faire découvrir nos coups de coeur… C'est dans cet esprit d'itinérance, que nous vous proposons une Just A Night au Cactus Club,

L'équipe de la Just A Night proposera un thème largement inspiré des meilleurs tubes Old School et les sons seront remixés par Jonathan Loys, résident du Label

Le Cactus est réputé pour ses nuits endiablées
Venez découvrir son NOUVEAU CADRE !

Life is a Party

==========================================

-EN-

SATURDAY 14.04.2018 - INTERNATIONAL PARTY

*****WARNING ! CULT AND KITCH PARTY!
★BACK to 80's vs 90's vs 2000's★
★JUST A NIGHT goes to the Cactus Club★

- THIRD PARTY IN THE LEGENDARY CACTUS CLUB-
- Powered by Just A Night, Benoit & Benoit de Cock

------------------------
CACTUS CLUB
------------------------

- COME DANCE – JOIN US - BRING FRIENDS- DRESS TO IMPRESS- SPREAD THE WORD – INVITE FRIENDS - EVERYONE IS WELCOME.

- Special 80's vs. 90's vs. 2000's «revival sound» By Jonathan Loys
- Doors Open 22:30

*CLUBHOUSE
*GREAT PEOPLE

Something more then just a regular night out.

www.facebook.com
Retour