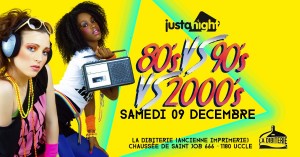 9 décembre 2017
22:30
10€
LA DIBITERIE (ANCIENNE IMPRIMERIE)
666 Chaussée de Saint Job - 1180 Uccle
-Just A Night label goes to a New Great Location -

INTERNATIONAL Party - BACK TO 80's, 90's, 2000's
THIS SATURDAY 09.12.2017 at La DIBITERIE (ANCIENNE IMPRIMERIE)
By The JUST A NIGHT's TEAM

COME DANCE – MINGLE WITH HUNDREDS – JOIN US – BRING FRIENDS – DRESS TO IMPRESS – ARRIVE EARLY – SPREAD THE WORD – INVITE FRIENDS-EVERYONE IS WELCOME

DRESS CODE : BE YOURSELF

New Live Music Experience (spinning 80's, 90's, 2000's & world music)

Let the party continue !
The Just A Night Team
-----

-FR-

BAMMMM - BXL MAIN EVENT

Dans une recherche constante de nouveautés, la Just A Night est le concept le plus itinérant de la capitale, un concept informel fondé par des amoureux de la nuit qui font bouger la nuit bruxelloise depuis plus de 10 ans... Avec un public cosmopolite on y croise des artistes belges et internationaux, des leaders d'opinion, des fous, les meilleurs DJ'S, des mannequins, des flambeurs, des pirates, des promoteurs de soirées, des hommes d'affaires, les expats de Bxl ou tout simplement les anonymes,...

Back to 80's - 90's - 2000's

Nous vous recommandons de vous inscrire à l'évènement ...

Un lieu d'exception que l'équipe de la « Just a night » voulait vous faire découvrir sans tarder…avec un thème qui on l'espère vous fera passer un moment inoubliable!

Something more then just a regular night out at a club.
www.facebook.com
Retour