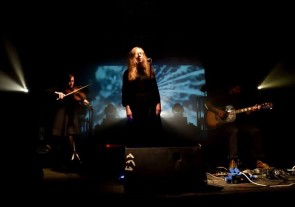 23 janvier 2018
Free
Café Central
14, Rue Borgval - 1000 Bruxelles
Based on their own interpretation of James M. Cain's classic novel "Mildred Pierce", Dominique Van Cappellen-Waldock (Baby Fire, von Stroheim, etc.) and Alwntr (ex-OMSQ) team up and deliver a dystopian soundtrack to one of the greatest American stories of the 20th century. They both imagine alternative chapters that draw Mildred's fate into murder, poisonous gardening, humiliation and vengeance.
Preface, their debut EP, was released in August 2017.
Since September 2017, Cécile Gonay (Seesayle, Baby Fire) has been a recurring guest on violin. The band's debut album is scheduled for May 2018.
Retour