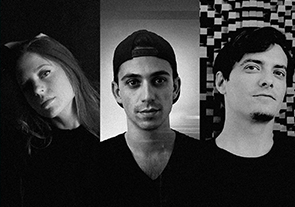 24 septembre 2021
Free
Café Central
14, Rue Borgval - 1000 Bruxelles
POINTZERO REC is a collective of producer, artists and also a label focus on Dark & Deep, Minimal, Psytechno. The last release, Hathor vol1, gathers 8 different producers, only girls, joining strenght to share pure & clean sound that burns from the inside. Next one is going darker, so stay tuned.
✦ ✦ ✦ ✦ ✦
TILDA
Tilda is an australian/french DJ and producer with a mysterious style of techno, always between light and darkness with melancholic melodies and psychedelic sonorities and powerfull basslines. She has started to play in the rave parties of the french underground techno scene before she went in Australia where she discovers the infinite world of psichedelic music. Inspired by nature, she is a witch of the dancefloor.
✦ ✦ ✦ ✦ ✦
RNDM.
RNDM. is a psy-techno project born in 2018 launched by the french producer Julien Matoux. Inspired by psy-trance for many years he dived slowly into techno and finally made his way between deep, dark, minimal and psychedelic techno groove. Collaborating with different labels such as Phobos records, Alula tunes, Atomes music, Anarkick records or Pointzero records.
✦ ✦ ✦ ✦ ✦
GEOMETEK
Co-founder of the label Pointzero, Geometek is brussels based dj, producer and promoter. His style varies from minimal to savage techno, fully inspired by psychedelic elements and the psytechno movement. Self-taught, he had to to perfect his musical culture alone, like a "metèque"
Retour