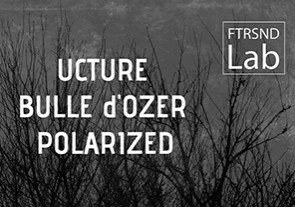 10 janvier 2019
Free
Café Central
14, Rue Borgval - 1000 Bruxelles
FTRSND
Lab: where Brussels' electronic music happens.
The Lab is packed with local music producers and electronic music addicts – we give them a shot. Expect cutting edge live performers. Today's electronic music is no more about pressing "play" and waving arms in the air: we expect live performers truly playing with their soul.
For this 15th edition we invite
Ucture
, Bulle d'Ozer (live) and
Polarized
___________________________________________________________________
∇
Ucture
Brussels mighty dj and all true forward-thinker of electronic sound, Hugo "Ucture" Ficher is a man of many talents who kept our feet shaking and brains dancing for now more than two decades. Ucture started DJing in the early Belgian Techno days. Although his output over the past few years has been far more eclectic, he is still moving backwards and is now exploring the outer reaches of raving acid and fire-breathing beats.
https://soundcloud.com/ucture
∇ Bulle d'Ozer
Bulle d'Ozer is a Belgian acid tekno/ acidcore producer. Since his first gig at a rave in 2014, he has played at many free parties in Belgium but also at more conventional venues like Bsg, Kultura, madness club,...
His acid music is influenced by Belgian rave sound of course but also by chiptune, punk and metal music.
Since recently he's also a member of the brusseld tekno collective Gazmatek.
https://soundcloud.com/bulledozer
∇
Polarized
Polarized is a DJ, producer and sound engineer from Brussels. He has joined FTRSND in the early stages and has organised several events for this collective. His music is a fusion of a cinematic universe, techno and ambient sounds.
https://www.mixcloud.com/polarizedsounds/
FACEBOOK EVENT
Free entrance all night long
Please respect the neighborhood
Retour