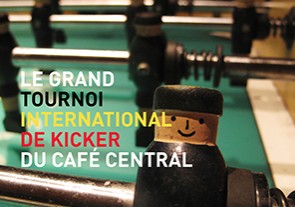 3 février 2019
Free
Café Central
14, Rue Borgval - 1000 Bruxelles
🏆 LE GRAND TOURNOI INTERNATIONAL
DE KICKER DU CAFÉ CENTRAL ⚽️🍻

Tournoi en double. Inscription préalable obligatoire 5€/joueur avant le 30 janvier. Inscription uniquement au Café Central. Les 5€ donnent droit à 2 tickets bières au fût au choix ou 2 soft.

Plus d'informations concernant les possibilités de paiement de l'inscription à venir. 🤙 On se tient au jus

🍺🥇

Babyfoot champ' and beer ... More info to come.

Kicker wedstrijd en pintjes drinken ... Meer info binnenkort.
Retour