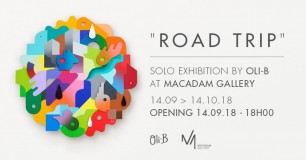 14 septembre 2018 > 14 octobre 2018
Friday, Saturday, Sunday : 11h00 à 17h00
Free
Macadam Gallery
Place du jeu de balle, 58, Brussels
Opening night 14.09.18 - 18h00

An unplanned road trip
We follow those infinite roads, those irregular paths, those serpentine trails. Then, we take a few steps back, we pause for a moment, we speed up, we slow down, chill for a while.

In Oli-B's work of art, we are confronted with an idealised journey in which every way is possible, every direction is conceivable.

Through the spectre of his intuition, the audience is immersed in abstract and geometrical forms from which breathtaking landscapes, objects and figures immerge. Through mesmerizing shapes, bright colours, voluptuous curves or straight lines, the audience observes some sort of balance.

The artist tries to create evenness from different shapes and colours. Driven by his intuition, he spontaneously draws his lines and he chooses the colours in a process which is close to improvisation. The balance magically appears out of his best-loved material: canvas and wood.

Oli-B is very happy to inviting you to the opening night of his solo exhibition "Road Trip" on Friday, September 14th at 6 pm at Macadam Gallery, located in Place du jeu de balle, 58 in Brussels.
Retour