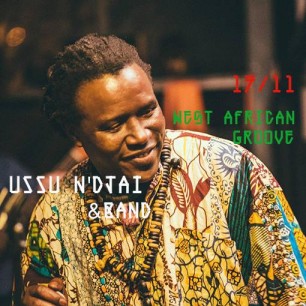 17 novembre 2017
19:00 - 00:30
6/8€
Crix Café
Rue Monténégro 44, 1060 Région de Bruxelles-Capitale
USSUmane N'DJAI & band
Originaire de Guinee Bissau et Basé à Amsterdam, Ussumane N'djai Nous invite à une transumance musicale au travers des rythmes de l'afrique de l'ouest (M'balax, N'gumbem, Afro mandinque), assaisonnes de reggae des caraibes, de salsa et de funk.
Il sera en quartet pour une soiree exceptionnelle au CRIX !

The Amsterdam-based group of Ussumane 'Balansa' N'djai brings an exciting mix of different West-African music styles (m'balax, m'gumbeh, Afro-Mandingo) spiced with Carribean reggae, salsa and funk.
He will come in quartet, for a special show at Crix !

https://www.facebook.com/UssuNdjaiTheNewBalansa/
https://www.youtube.com/watch?v=x787Aen9mq4
Retour