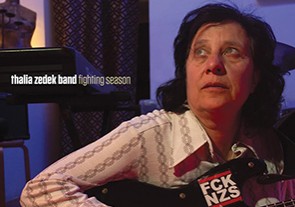 25 janvier 2019
Free
Café Central
14, Rue Borgval - 1000 Bruxelles
Cheap Satanism Records and Café Central welcome you to :

THALIA ZEDEK BAND (us) + PRAIRIE (be)

THALIA ZEDEK BAND (us)

https://thaliazedek.bandcamp.com/

Since the dissolution of COME, Zedek has focused her solo efforts on more vulnerable, stripped back arrangements. Her new album "Fighting Season" combines the grit of her past with the fragility of her solo releases, spinning tales of discord and struggle from the personal to the political and featuring performances by old friends CHRIS BROKAW (COME) and J. MASCIS (DINOSAUR JR.). Through her exceptional songwriting and performances, Thalia Zedek's fervent passion can be felt more than ever on F"ighting Season", from blustering swirls of dissonance to hushed whispers.

"Fighting Season" was a term originally coined for the period of time in Afghanistan when winter comes to an end and fighting in the region would resume. Zedek's reinterpretation of the phrase instead turns the focus on resistance, on a time to fight for oneself or to protest the deteriorating political landscape. The songs across Fighting Season tell heartfelt stories of individuals battling for their own sense of peace. Title track "Fighting Season" exemplifies the album's rebellious spirit with a steady, marching call to action against senseless conflict. "Bend Again" and "War Not Won" simultaneously explore battles with personal demons and addiction as well as the throes of political upheaval and failure. Zedek's lyricism throughout beautifully captures a duality of individual and collective struggles, drawn from personal experiences, as well as those widely discussed in the media such as the turmoil in Syria and the plight of refugees. As a longtime advocate for those seen as outsiders, Zedek's voice on these subjects holds a rare sense of poignance that few possess.

Fighting Season was recorded throughout late 2017 and early 2018 at Kimchee Records Studio by Andy Hong, another of Zedek's frequent collaborators. The album was written leading up to and following the 2016 U.S. elections For both the recording and writing, Zedek took a more isolated approach than past albums, writing the material on her own and only presenting the songs to the full ensemble shortly before recording. This isolation leant itself towards crafting some of Zedek's most direct, and emotive songs to date. Thalia Zedek has been lauded for decades for her ability to create such immediate, urgent music and Fighting Season finds Zedek at her sharpest, delivering potent yet raw songs that inspire hope in a time wrought with fear.

PRAIRIE (be)

https://denovali.com/prairie/

!!! Solo improv. set !!!

Prairies are ecosystems considered part of the temperate grasslands, savannas, and shrublands biome by ecologists, based on similar temperate climates, moderate rainfall, and a composition of grasses, herbs, and shrubs.

Prairie is the project of multi-instrumentalist and producer MARC JACOBS, hailing from Brussels with roots in The Netherlands. He previously released an EP ("I'm so in love I almost forgot I survived a Disaster" - 2013) and an LP ("Like a Pack of Hounds" - 2015) on the Berlin imprint Shitkatapult. On stage, Prairie plays with two or three musicians and together they re-create a free association of musical ideas and atmospheres. Prairie has played in selected venues and festivals across Europe and toured with APPARAT in 2016.

If the apocalypse was painted in several layers of pastel gouache, its soundtrack might be PRAIRIE's After the Flash Flood. Listening to the album, we drift through a series of frozen landscapes that gesture at a post-apocalyptic ambiance. This is a kind of blackened music that has been left to sediment, excavated from traces in ice core samples. After the Flash Flood showcases a deep sensitivity to narrative and rich cinematic textures as Marc Jacobs returns with palimpsestic sonic layers.



Retour