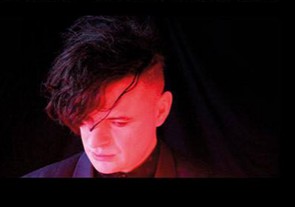 3 octobre 2019
Free
Café Central
14, Rue Borgval - 1000 Bruxelles
Free entry - Fantomatic.Night X
LINK TO THE FB EVENT
▬▬ concerts ▬▬▬▬▬▬▬▬▬▬▬▬▬▬
✧ SOFT RIOT (ca/uk - synth wave)
✧ Kezdown (be - dark wave)

▬▬ dj sets ▬▬▬▬▬▬▬▬▬▬▬▬▬▬▬
✧ Hatecraft (addams family)
✧ Muffin
✧ X-Pulsiv (fantastique.nights)

▬▬ address ▬▬▬▬▬▬▬▬▬▬▬▬▬▬▬
✧ Café Central - Borgval 14 - 1000 Brussels
✧ www.lecafecentral.com

▬▬ time schedule ▬▬▬▬▬▬▬▬▬▬▬▬▬
✧ 20:30 Kezdown
✧ 21:20 Soft Riot
✧ 22:10 afterparty


Soft Riot is JJD; a former Vancouverite now residing in the UK who has clocked in around twenty years of musical output in various bands and projects, including half a dozen art-damaged punk and hardcore bands as well as first-wave post-punk revivalists Radio Berlin. Moving from Vancouver to London UK in the late 2000s, Soft Riot came into full being, having released a couple of acclaimed albums and EPs and staging numerous tours around Europe.
With origins from the mid-nineties in the vibrant art-punk/hardcore dominating the West Coast American/Canadian underground at the time (the first EP, No Longer Stranger, is the name of a track by hardcore band Universal Order of Armageddon), JJD followed a trajectory through to the revival of synth-based post-punk music just over a decade or so ago, which spawned a number of highly successful Canadian artists out of that scene.
Soft Riot's sound is an amalgamation of JJD's personal experience with music, containing elements of synthesiser-based film soundtracks, romantic italo-style flourishes, throbbing arpeggiations and angular, psychedelic synth-pop all tied together with an underlying tension. It is a science-fiction heavy soundscape that narrates the listener through today's fractured, excessive landscape with hints of black humour.
Soft Riot, coming from a more punk rock pedigree, often places more focus than the norm on his lyrical content, bringing in detailed pictures and sometimes even linear narrative storylines to subjects such as modern living, technology, surveillance, environment, overpopulation, enlightenment, life elsewhere, forewarning about catastrophic events, vain people in gyms, and not having enough time. The influences come less from other musical artists but more so from written fiction and film —a future predicted by fiction.
When playing live JJD mans no less than three synthesizers, a microphone, an on-stage mixer, and a variety of outboard effects. Soft Riot has toured Europe numerous times, most recently France, Germany, Netherlands and Belgium as well as Moscow and a number of UK cities. Stages have been shared with such peers as Keluar, Lebanon Hanover, Noi Kabát, Robert Görl of DAF and more.
Retour