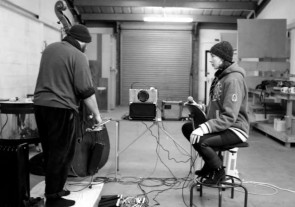 21 mai 2019
Free
Café Central
14, Rue Borgval - 1000 Bruxelles
Some Noise, Cheap Satanism Records and Café Central welcome you to:
SEALIONWOMAN (uk)

http://kingdomofsealionwoman.tumblr.com/

Sealionwoman was formed by way of a fortuitous, chance meeting of Scottish-born jazz-influenced vocalist Kitty Whitelaw and double bass player Tye McGivern.

The stripped-down duo line-up of Sealionwoman coalesced around Whitelaw's rich and beguiling vocal and McGivern's atmospherically inventive approach to his instrument. A defiantly uncategorisable sound was born, equally informed by melancholic soundscapes, torch-song transgressions and rapturous drama. McGivern offers Bad Seeds-style atmospherics influenced by noir-jazz degenerates Morphine and a Colin Stetson-esque approach to minimalism. This is masterfully fused with Whitelaw's theatrical inspired vocals, taking inspiration from iconoclastic vocal stylists like Beth Gibbons, Circuit Des Yeux's Haley Fohr, and Sarah Vaughan.
Retour