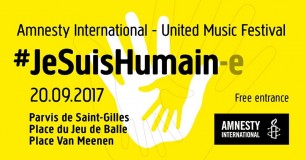 20 septembre 2017
16:00 > 3:00
FREE
Parvis de St-GIlles / Place du Jeu de balle / Place Van Meenen
Parvis de St-GIlles / Place du Jeu de balle / Place Van Meenen

FR // FL // ENG // LINE UP

#JeSuisHumain-e United Music Festival réunit plus de 20 artistes belges, internationaux et réfugiés dans 20 lieux différents de Bruxelles en solidarité avec plus de 20 millions de personnes réfugiées.

Parce que les rencontres créent les mélanges, on passera du hip hop à l'électro pour surfer sur les sons world, krautrock et rock en fonction des lieux participants.

Les concerts débuteront dès 17h dans les bars de la Place Van Meenen et du Parvis de Saint-Gilles.

La Place du jeu de Balle, avec son camion de pompier transformé en scène géante, accueillera les petits et les grands dès 16h.

Tous les concerts sont gratuits!
----------
Het United Music Festival #JeSuisHumain-e brengt meer dan 20 Belgische, internationale en vluchtelingenartiesten samen op 20 verschillende plaatsen in Brussel uit solidariteit met meer dan 20 miljoen vluchtelingen.

Het festival biedt een diversiteit aan muziekgenres: van hiphop over electro, tot wereldmuziek, krautrock en rockmuziek.

De optredens starten om 17u in de bars gelegen tussen het Maurice Van Meenenplein en het Sint-Gillisvoorplein. Op het Vosssenplein zal een brandweerwagen dienst doen als podium. Iedereen is daar welkom vanaf 16u.

Alle optredens zijn gratis!
---------
ENG

#JeSuisHumain-e United Music Festival brings together more than 20 Belgian, international and refugee artists in 20 different places of Brussels in solidarity with more than 20 million refugees.

Because meetings create the matches, you will travel from hip-hop to electronica to surf on world music , krautrock and rock from one place to another.

The concerts will start at 17:00 in the bars of Place Van Meenen and the Parvis de Saint-Gilles.The Place du Jeu de Balle, with its fire truck transformed into a giant stage, will welcome everyone starting 4 pm.

All concerts are free!
▬▬▬▬▬▬▬▬▬▬▬▬▬▬▬▬▬▬▬▬▬▬▬▬▬▬▬▬
Line up

♥ Acid Arab
♥ Asupernaut
♥ All Elements
♥ Barbara Carlotti & Plaisir de France
♥ Beatsforbeaches ft. Dhazed & Léon
♥ Billions of Comrades
♥ Capelo
♥ Cinéma Nova
♥ Dario Mars and the Guillotines
♥ Darko
♥ Débruit
♥ DJ Brans & Mil (Effiscienz)
♥ Dj SoFa
♥ Ed Wood Jr
♥ Effiscienz
♥ Erin Lang
♥ Faustine Hollander
♥ Françoiz Breut
♥ Gernas
♥ Guillaume P(M)aupin
♥ JoBee
♥ Judah Warsky
♥ Le Ton Mité
♥ Léonie Pernet (Mix Debout)
♥ Ligne 81
♥ Maoupa Mazzochetti
♥ Marc Melia and Lieven Dousselaere
♥ Monolithe Noir
♥ Mountain Bike
♥ Ms Groggy
♥ MUGWUMP
♥ Nicolas Jules
♥ Nixies
♥ Nicolas Michaux
♥ o;;o & DjjD (la souris et l'éléphant)
♥ Our Fortress
♥ Panique au Village
♥ PAVéS! Collective
♥ Phoenician Drive
♥ Poxcat Collective
♥ Princess Century
♥ Rasasawt
♥ Razek Badra
♥ Rebel up
♥ Refugees for refugees
♥ Refugees got talent
♥ Rick Shiver
♥ Shazzula
♥ Stakattak
♥ Sylvain Chauveau
♥ Vastechoses
♥ vlek
♥ Yersinia Pestis
♥ Yôkaï
♥ YZ

And more soon...
Retour