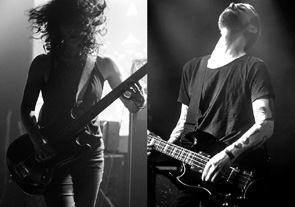 29 septembre 2021
Free
Café Central
14, Rue Borgval - 1000 Bruxelles
SUM OF R (CH/FI - Consouling Sounds)
Sum Of R was initially created in 2008 by Reto Mäder and ever since underwent several states of metamorphosis from atmospheric doom into ritualistic drone rock into dark ambient and experimental music.
No longer an instrumental project, this new trio will be touring for the first time with their new incarnation. Reto Mäder teamed up with Jukka Rämänen (Dark Buddha Rising, Hexvessel) and Marko Neuman (Dark Buddha Rising).
They will release a stunner of an album this late fall on Consouling Sounds. Lahbryce was mixed by Victor Bullok, aka V. Santura (Triptykon, Dark Fortress).
INSECT ARK solo (US - Profound Lore Records)
Evoking visions of dripping and lurching horror films, outer space travel, avant-noise and gritty noir textures, Insect Ark uses delay-drenched lapsteel, distorted bass & synths, and acoustic and electronic drums to create a sonic mural both uncomfortably intimate and icy cold.
Insect Ark is led by founder Dana Schechter (Swans, on bass, lap steel guitar, synthesizers) and Andy Patterson (SubRosa, on drums, samples). As of January 2021, the band is in the demo stage of writing a new album.
Also starting in 2021, Dana Schechter will be performing select solo shows in Europe where she is currently based. Known to many for her work with Swans/Angels of Light, Schechter's wholly visionary take on horror-avant-noise will challenge your perception of what a "one-woman show" can be. An avid multi-instrumentalist, she weaves pulsing, seething improvs with reinterpretations of Insect Ark's recorded songs, leading audiences through her twisted aural visions in total abandon. From the tiniest filament of a whisper, to utter doom-laden chaos, the rawness and beauty that's brought critical acclaim for Schechter's music is reborn for solo stage via layers of lap steel guitar, bass, and synths, all manipulated in real-time with her mastery of analog live-looping techniques and effects work.
These will be the first proper Insect Ark solo shows since 2015, after which live drums became a permanent fixture of the band.
As a duo, the band's third full-length album, The Vanishing, was released in February 2020 on Profound Lore Records.
Retour