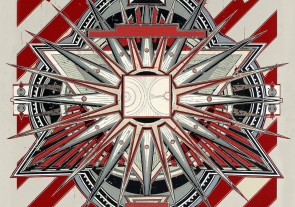 14 mars 2019
Free
Café Central
14, Rue Borgval - 1000 Bruxelles
Cheap Satanism Records and Café Central welcome you to :

CORTEZ (ch) [LIVE] + Vincent Satan (be) [DJ set]

CORTEZ (ch)

https://www.facebook.com/cortezrocks/
https://cortez.bandcamp.com/

Cortez is a pair off the stage and a power trio (guitar, drums, vocals) live. Always at the forefront of contemporary noise-hardcore, their music is a condensation of a rare brutality, inventive, and including many external artistic influences.

Samuel Vaney (guitar) and Grégoire Quartier (drums) produce everything, and the latter is accompanied by a guitarist (Jérémy Spagnolo) and a singer (Antoine Läng) live.

The band is once again preparing to push the limits of its genre with the release of their 3rd album "No More Conqueror". After Initial (2005) and Phoebus (2013), the Helvetians reaffirm their radicality, more direct and concise than ever.

'No More Conquero is a masterful display of roiling metallic hardcore. This thing is a colossal sounding clash of sounds, with a massive production courtesy of Raphael Bovey (Zatokrev, Impure Wilhelmina, Convulsif).

DJ: VIncent Satan (be)

Vincent Satan, best known for his role as a devilish patron in Cheap Satanism Records than as a DJ.
Despite his evil nickname Vincent doesn't spend his time to try to make his audience becoming fan of Norwegian back metal. Don't be afraid so!
Retour