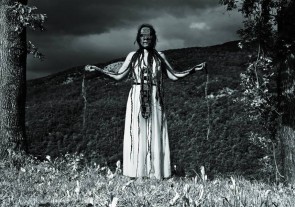 18 décembre 2018
Free
Café Central
14, Rue Borgval - 1000 Bruxelles
Cheap Satanism Records and Café Central Welcome you to:

?ALOS (Live) + CHINESE TAKEAWAY (DJ set)

?ALOS (it)

http://www.signorinaalos.com/
https://www.facebook.com/signorinaalos

Eclipses, breaths, wind, goddesses, Mediterrenean, Middle Eastern or Asian myths, Potnia Theron, Artemis, Cybele, Diana, Eris, Hecate, the Muses, the magic of the origins: the coordinates of this album take us far back in time and to the southeast of the globe.

With this album, "The Chaos Awakening", ?Alos continues her research into the mystical,magical, shamanistic and pagan side of music and vocals.

Following the elements Earth and Water, her attention now turns to Air and Fire.A single track lasting 20 minutes, a live recording which aims to capture a ritual in order to reawaken the chaos that surrounds us and which is deep inside us all.

?Alos fuses the ancient and the contemporary, using above all her voice, melding it together with ethnic instruments from Vietnam as well as handmade instruments such as modular synthesizers and "The Chaos Scepter"; a two cord wooden instrument built specifically for her by Nude Guitars.

Marcello Batelli was the sound engineer and sonic researcher who recorded, mixed and mastered "The Chaos Awakening".

Recording was done live during an artistic residency in Valico Terminus (Ramiseto), a roadman's cottage situated between Emilia Romagna and Tuscany, managed by two curators: Giovanni Cervi and Nila Shabnam Bonetti. A location dedicated to receive and support artists in the production of new works.

The album will be released on 23rd September, the day of the Fall Equinox, by the labels Dio Drone, Archeological Records and the Belgian label Cheap Satanism Records as a one-sided LP in a limited edition of 300 copies with a screenprinted B-side, done by hand by Algas as well as the cover.

Chinese Takeaway (it)

Her thing is girls: Riot grrls, edgy girls who are no letting others walk all over them. Her idol is Jo Squillo, the Italian Nina Hagen. When she's in a romantic mood she also plays "trashy tunes" and 80's gems! Rock'n'Roll baby.
Retour