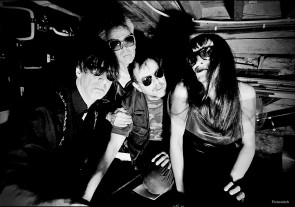 14 novembre 2019
Free
Café Central
14, Rue Borgval - 1000 Bruxelles
• Ablasnief Krugz
www.facebook.com/ablasnief
Pre-Kobayan Kontinentäl Kollektiv. Muzik.
L. Castelain, Bss, Vx.
A. Krugxzz, Machines, Vx.
G. Panarisi, Percs, Vx
M. Cortell, Gtrs, Vx.
J. Trossat, Snd design.


LINK TO THE FB EVENT

• The Partridge Ambulance
www.facebook.com/ThePartridgeAmbulance/
The Partridge Ambulance happened when Jebediah Morton was refused entry onto a Sydney luxury yacht cruise. The cruise featured an appearance of a talking zebra discussing radical politics with a squid. Morton was hoping to steal the zebra in order to resuscitate his floundering YouTube channel.
'Sorry sir, this cruise is invitation only,' said the Maitre d'.
'If only you knew what an important person you're turning down here, you'd feel very silly indeed,' Morton replied, rather high-handedly.
'So. What would make sir such an important person, then?' the Maitre enquired with genuine curiosity.
'I, well, err, I, umm, lead a rock & roll band.'
'Really, sir. And what might the name of this musical ensemble be?'
In the distance, a siren sounded. No partridge squawks were to be heard, so the origins of this part of the name remain unclear. 'The Partridge Ambulance,' Morton ventured.
'That's a strange name for a band,' replied the Maitre, rather pleased.
'It is.'
And so, Morton was allowed onto the yacht. Unfortunately he fell into Sydney Harbour while trying to entice the zebra to step into the lifeboat. However, to keep his cover up, he felt compelled to start a rock band called the Partridge Ambulance.
Arthur McIntosh, a renowned French literature scholar who had gotten in trouble for forging lunch coupons, took up the bass guitar. Phideas Beauregard, a private detective who had unsuccessfully tried to defraud his insurance company by shooting his own foot, became the drummer.
And so, equipped with a respectable number of hastily penned songs about heartbreak, faulty toasters and aversion against talking zebra's, the Partridge Ambulance is ready for the road. Come check them out.
Retour