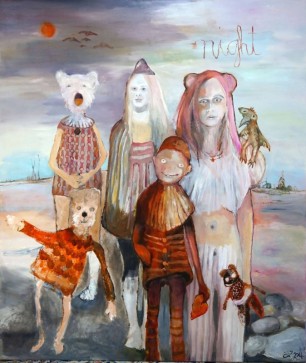 13 octobre 2017 > 15 octobre 2017
Vendredi > Dimanche - 11h > 17h
0€
GALERIE MACADAM
58 place du jeu de balle, 1000 Région de Bruxelles-Capitale
Exposition : 22/09/2017 > 22/10/2017

La galerie Macadam est heureuse de présenter la première exposition personnelle en Belgique consacrée à l'artiste allemande Juliane Hundertmark, considérée comme l'une des peintres émergents les plus originaux et inventifs de Berlin.

Son travail riche et coloré communique les vérités quotidiennes à mesure qu'elle les expérimente à travers l'observation des exclusions sociales et des comportements « normaux » et irrationnels. Le style distinctif de l'artiste implique des métaphores visuelles et la mise en scène de scénarios de groupe pour examiner ces observations sociales.

Un univers détonnant empli d'humour et de personnages hybrides aussi étranges qu'intrigants.

Solo Show à découvrir à la galerie Macadam du 22 septembre au 22 octobre 2017.


macadamgallery@gmail.com
www.macadamgallery.com

----------------------------------------------------------------

JULIANE HUNDERTMARK est née à Mainz en 1971 et vit à Berlin en Allemagne. Elle a étudiée le design et la scénographie à Bayreuth et possède une maîtrise de l'Académie des Beaux-Arts de Nuremberg. En 2005, elle remporte le prix de l'Art Association Bayreuth pour les jeunes artistes. Elle est représentée dans de nombreuses collections en Europe et aux Etats-Unis et a

« The paintings I saw by Juliane Hundertmark were all rather mysterious and even disturbing in places, such as the collaged eyes in one and lips in another, yet also with beautifully painted
sections such the detailed clothing of one figure and the mere black outline of another. That enigmatic "otherness" and open-ended quality combined with different painting styles, some realism and some minimal painterly effects, is very exciting and makes the works fresh and innovative. A unique style unlike any other painters working today. »

Barbara Bloemink, Curator Guggenheim Museums.
Retour