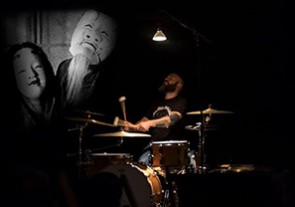 11 février 2018
Free
Café Central
14, Rue Borgval - 1000 Bruxelles
CINÉ / CONCERT
Ciné Concert Jason Van Gulick
A page of madness (T. Kinugasa, 1926) 60 mn
Jason Van Gulick vous propose par le son de ses percussions, une
relecture de ce film culte japonais.
Jason Van Gulick offers by the sound of his drum, a replay of the
Japanese cult film.


Une page folle (A page of madness)
... relève d'une expérience cinématographique puissante qui nous ferait dire aujourd'hui que nous n'avons rien inventé depuis. L'histoire est celle d'un vieux marin devenu employé d'un hôpital psychiatrique afin de favoriser l'évasion de sa femme internée après avoir noyé leur enfant. Il rêve des premiers jours de leur vie commune, se trouve pris dans une mutinerie et retourne au travail, résigné, après que sa femme ait refusé de le suivre. Les images de ses souvenirs, actions et espoirs se succèdent à l'écran sans réel lien narratif. Superbes, elles s'emballent et se bousculent aux gré des maux du marin et de ceux des aliénés. Leurs folies sont prétexte à des déformations et des trucages 
expérimentaux qu'un montage lie magistralement entre eux. Le rythme y est vertigineux, le cadre, l'éclairage, les décors et le gestuels des comédiens font d'Une page folle un chef-d'œuvre mondial du cinéma muet.
Laure Favret
Jason Van Gulick (percussion)

Artiste vivant entre la France et la Belgique, Jason Van Gulick se démarque par un parcours atypique. Etudiant en architecture entre 1996 et 2001 à Reims, Nancy et Lille, il a développé un rapport concret à son instrument, la batterie, au cœur d'une approche sensible de l'environnement sonore.
Avec la création en 2011 de ses premiers projets en solo, il s'inscrit à l'international en tournant régulièrement en Europe et s'oriente progressivement vers une musique plus expérimentale, fruit d'une recherche plus personnelle. Ses études en architecture et sa formation aux techniques du spectacle vivant continuent de le nourrir et permettent le développement du travail d'un artiste complet. L'exploration de l'espace par le son et la création de mises en scène autour du rapport entre le musicien et le public sont aujourd'hui deux axes centraux de son œuvre.

https://jasonvangulickdrummer.bandcamp.com/
http://jason-vangulick-drummer.blogspot.com/
https://soundcloud.com/jason-vendredi13
https://vimeo.com/jasonvangulick
Retour